Are you searching for the Lady of Robinhood slot review? It will follow the classic story of a hero who steals from the wealthy and donates to the poor, but with a twist that you can probably guess. 
In this case, the hero is a woman rather than a man, and while it's not a wholly unique perspective, it's a refreshing one that you don't see very often. But there's more to this Bally slot than simply gorgeous graphics, so let's get started.
The Detail of Lady of Robinhood Slot Review
Lady of Robinhood is a 5×4 reel slot machine with a total of 40 active lines for each of its rounds. The game is considered a low-volatility option, with a long-term RTP of only 95.92%, which is slightly lower than the industry average at the moment. 
You'll find wilds and scatters, as well as the Bullseye Bonus with free spins, though the top payoff doesn't appear to exceed 100x total bet each play ($250,000 is the game's maximum).
1. Wagering Options
Simply choose the amount you want to bet per spin, and it will always cover all 40 lines. As a result, the minimum bet starts at $0.40, ensuring that each line receives at least $0.01. A stake of $500, with each line receiving $12.50, is at the other extreme of the game's range.
As a low-volatility online slot game, it's not intended to pay out a lot of money; instead, the goal is that it will pay out frequently and won't be a highly hazardous decision.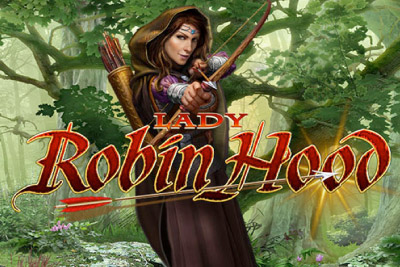 However, with top jackpots of only 100x, or up to $50,000 each spin, it's about as low as a game can get, so it's not thrilling enough to play unless you're just seeking to have fun. 
The game's ceiling is set at $250,000, but we think that this applies to the entire free spins feature because winning combinations can't reach that high in terms of payouts.
Lady of Robinhood is a low volatility slot machine with a 95.92% RTP. It's not particularly interesting, and it's best suited to casual players.
2. Game Features
The wild symbol will appear in the game, but it will not appear on reel 1, hence it will not be able to form its own combinations. It's solely used as a substitute sign for standard combinations.
When three Scatters appear on the screen, the Bullseye Bonus is triggered. Then you play 10 free spins, consuming three arrows along the way.
Before each round, the arrows are fired at random. To win more arrows, collect more Target symbols. These arrows will either fill meters to make particular reels entirely wild, or they will directly give you a random wild reel if they hit the target.
3. Design and Theme
It's a theme that takes a well-known story and twists it into something new by making the protagonist a woman. The game does an excellent job of immersing the player into the plot with well-designed graphics and action that transports us to Sherwood Forest. 
The feature symbols include brands and heraldry, while the normal symbols are Lady Robinhood, Arrows, Daggers, Beer, Coins, and the five best Royals (10 to A).
Conclusion
In conclusion of Lady of Robinhood slot review, it's mostly a slot game for players who want to have some fun, especially at Result SGP site, as it doesn't have a lot of winning potential, but it's also not very volatile, so there are advantages and disadvantages to that approach.
Read More: Christmas Tree 2 Slot Review (TrueLab) Medium Volatile, RTP 96.01%